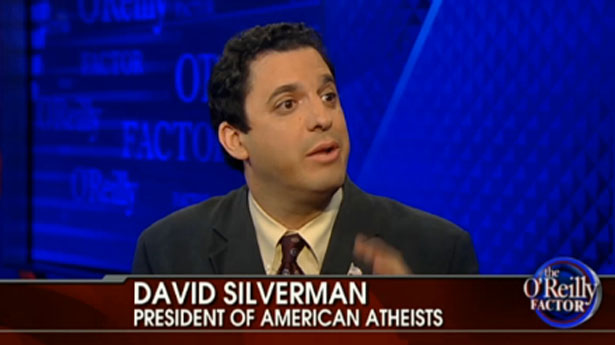 If the atheist community thought all atheists were pro-choice, they know better now.  The atheist blogosphere has been in a flurry over the past two months as secular writers, tweeters, and bloggers attempt to grapple with the existence of secular arguments against abortion.   On March 7th an article was published in which David Silverman, head of American Atheists acknowledged to a reporter  that secular arguments exist.  Although he's made it clear that he doesn't agree with the arguments and was merely trying to side-step a deviation from his main point, the mere nod toward the existence of non-religious arguments against abortion threw many into a very upset frenzy.
The wave of uproar had no time to recede before Hemant Mehta published on March 11th the guest-blog he'd asked me to write, which was entitled  Yes, There Are Pro-Life Atheists Out There. Here's Why I'm One of Them.  The deluge of bloggers and commentators attempting to refute and rebut my arguments has been surprising, and at times nearly overwhelming  (especially since I've been traveling/speaking and coping with health challenges during the past couple months), but I'm in the process of crafting responses to the more pertinent comments and rebuttals.
If you follow Pro-Life Humanists on Facebook or on Twitter you've seen a number of the many responses to have come our way, and in the coming days I intend to showcase more of them. Some are worthy of rebuttals, others are worthy of a face-palm.  Among the responses was the oft-repeated idea that atheists ought not even entertain secular arguments against abortion.  Many argued that we should be shunned/ignored and given no voice in the atheist community because to question abortion rights is to question the "fundamental humanity of women".  Others lamented "They're infiltrating our conferences and our blogs and our forums and our magazines…"   Apparently pro-life atheists aren't actually atheists and the "our" is theirs, not truly OURS inclusively.   (More on that in the next post.)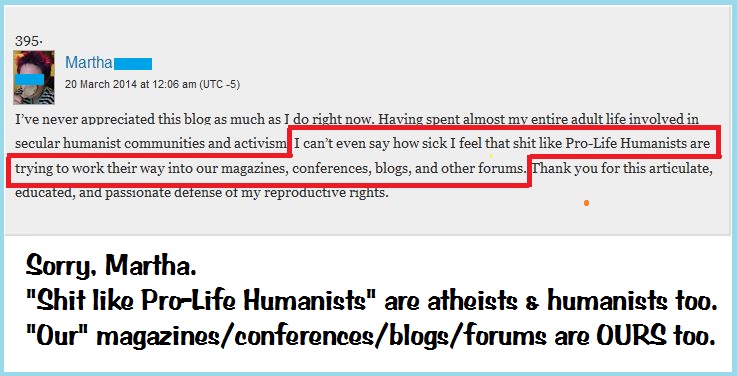 Below is a small sample of the varied blog "gems" that surfaced during the initial days of Silverman's comment.   I'll soon be posting the best of the comments from the rebuttals of my Friendly Atheist piece, followed by my own rebuttals to those – so be sure to check back in shortly.
And I apologize in advance to those of you with sore necks and headaches: the amount of head-shaking and face-palming you're going to want to do in response to some of these, is probably going to hurt!
————————————————————————————————
So David Silverman is getting a lot of grief over this statement at CPAC:

"I will admit there is a secular argument against abortion. You can't deny that it's there, and it's maybe not as clean cut as school prayer, right to die, and gay marriage."

He's right, you can't deny that there is. It's a shitty argument based on poor facts, but it is nonetheless secular.
~ JT Eberhard (Dave Silverman is Not Anti-Choice)
————————————————————————————————
Not all atheists are humanists, and not all atheists are skeptics. It is vastly unfortunate that a trait I thought would really help to separate the wheat from the chaff doesn't quite do the job. There are immoral and bigoted atheists. There are atheists who believe, firmly, in the existence of Big Foot, atheists that don't vaccinate their children, atheists that believe in homeopathy, and even atheist misogynists.
Enter Secular Prolife.
… they qualify as certifiably misogynistic. They hold that a fertilized egg is a person and worthy of certain rights, namely life. They dismiss the rights of the woman as secondary and claim a moral high ground in defending embryonic and fetal personhood. Being ignorant and/or misogynistic while being secular is very possible, if incredibly sad and infuriating.
~ Shannon Nebo, aka Secular Sunshine (What Did David Silverman Actually Say?)

————————————————————————————————
If by 'secular argument,' you mean 'a belief based on personal feelings,' then, sure, there's a secular argument against abortion. There could be a 'secular' argument against puppies, in that case. If you're using 'secular' to mean 'a logical, science-based, or rational' belief, then no, there is no 'secular argument' against abortion. The supposed 'secular arguments' against abortion are rooted in misogyny, a lack of understanding of science, and religious overtones.
~ Sarah Mowgli  (Is There a Secular Argument Against Abortion?)
————————————————————————————————
I like this next guy, even if we disagree.  He responds to Sarah's assertion (above)
Sarah, not everything you (or I, for that matter) dislike or disagree with is based in misogyny, stupidity, or religious fundamentalism, and it's high time people stop using the m-word as the ultimate trump card to which one cannot possibly dare to reply.

Of course there are logical, science-based, and rational arguments against abortion. They may turn out to be ultimately unconvincing, or countered by better arguments — as I believe they are — but they certainly exist.
~ Massimo Pigliucci (David Silverman and the Scope of Atheism)
————————————————————————————————
I'm… upset that by hedging on this issue, [Silverman] gives cover to people who think he means there's a valid, cogent argument against the right of a mother to choose whether to be pregnant… And since the only such argument that I've seen generally goes "science says life begins at conception because science", "because nerves", "because heartbeat", et cetera, without much backing, it's a pretty shaky argument…

… The religious arguments against abortion are all based on the idea of a soul, and even if you remove the belief in religions and souls, the rest of the arguments that remain against abortion are simply justifications, artificially created scaffolding to attempt to retain arguments that were previously held aloft on the skyhook that is God. So burn that scaffolding down. It's made of cardboard tubes and bailing twine anyway — should be easy enough for anyone with the courage of their convictions, right?
~ Jason Thibeault (David Silverman's "Darwin Was Wrong" Moment)
————————————————————————————————
You really don't have to scratch too far beneath the surface of all of these supposedly secular arguments to smell the stink of repressive Christian culture.  In fact, I just did a presentation in February for the Secular Humanists of Southern California on how thinly veiled secular anti-choice arguments are.
~ Lilandra (What really matters…The So-Called Secular Arguments Against Choice) 
Lilandra then posts a picture of Secular Pro-Life's "For the embryology tells me so banner" and adds :
I don't want to belabor the point but here is a photo from Secular Pro-life's website to just show you how they basically just spin religious arguments into secular ones.
My face hurts!  I've run out of appendages to face-palm with!  I think Lilandra's desperate attempt at pegging pro-life atheists as "non believers that shed their religious beliefs but still harbour remnants of their former beliefs like a virus" has somehow gotten in the way of her sense of irony and humour.  Come on!  Anyone with even a cursory access to Christian culture has heard the old Sunday School song "Jesus loves me this I know, for the Bible tells me so."  It's clear to me, and I imagine to most people, that SPL is intentionally spoofing Christian culture.  But certainly anyone who who spoofs Christian culture is not a fully liberated atheist!  – Can I get a Ramen to that?   😛
—————————————————
Anyway, as I mentioned above, in the subsequent posts I'll be sharing the comments and "rebuttals" that followed my post on Hemant Mehta's Friendly Atheist Blog and responding to some of them.  Feel free to light your fires, and may the better arguments win.  I think the honest reader will be able to ascertain that we've got a lot more than leftover religion, cardboard tubes and bailing twine!